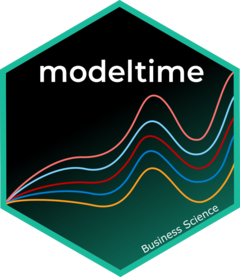 Extending Modeltime (Developer Tools)
Source:
vignettes/extending-modeltime.Rmd
extending-modeltime.Rmd
Introduction
The modeltime package was with extensibility in mind. It's impossible to incorporate the entire R time series ecosystem into a single package. More than likely your going to need something that hasn't been included yet. And, if you're a developer, I challenge you to extend modeltime to suit your needs. I've spent a lot of time thinking about:
And, I want you to leverage what has been built so you don't have to recreate the wheel.
Before we get started, where are we coming from?
Beyond being an amazing ecosystem for Machine Learning analysis in R, tidymodels is a developer-friendly infrastructure that enables parsnip-adjacent packages like modeltime. The ecosystem provides basic building blocks for extending machine learning models, tuning parameters, performance metrics, and preprocessing (feature engineering) tools. Before you start building, I highly recommend reviewing these resources:
The most important is the first resource - "How to build a parsnip model".
Example
Integrating Multiple Seasonal Decomposition
The forecast package includes the stlm() function for creating models using time series decomposition. It's a great approach based on the concept that you can decompose complex seasonality into multiple components:
Trend
One or Multiple Seasonalities
Remainder
We can then forecast the components using models like: auto.arima() and ets().
Note - I've added a seasonal_reg() function that includes the functionality we are about to create. Check that function out to see more about seasonal decomposition methods.
Libraries
To use the code in this tutorial, you'll need to have the following packages installed.
Data
We'll use taylor_30_min data from the timetk package, which is electricity demand data at a 30-minute interval.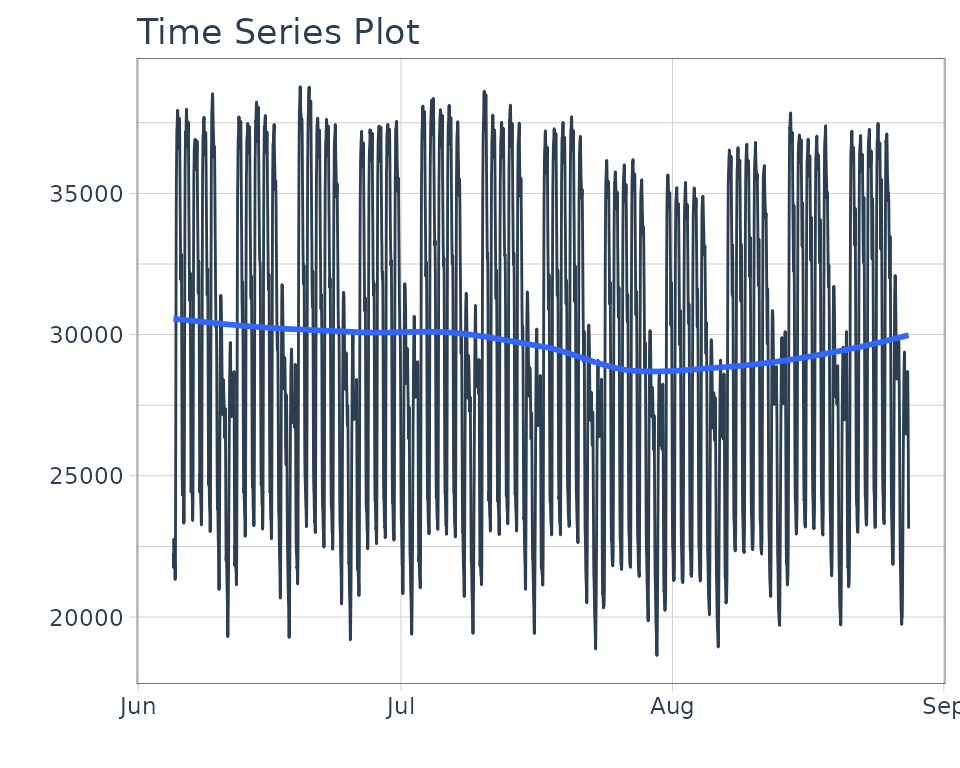 STLM Model - A quick overview
We need to use 2 functions to create the model:
msts() - Tracks the multiple-seasonality as an object
stlm() - Creates a model from the msts object.
Note that we use seasonal periods (24*2 = 48) for daily seasonality because this series has been aggregated at a 30-minute interval. The second seasonality is at 7-days, so we just use 24*2*7.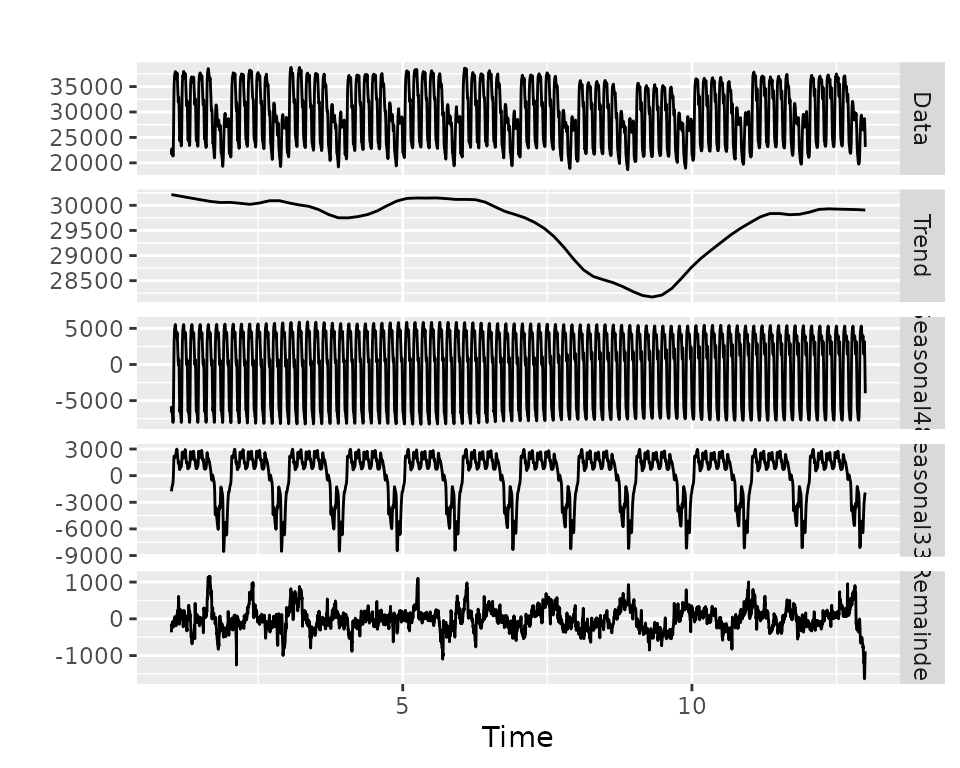 The forecast() function is used to generate predictions, much like the predict() function.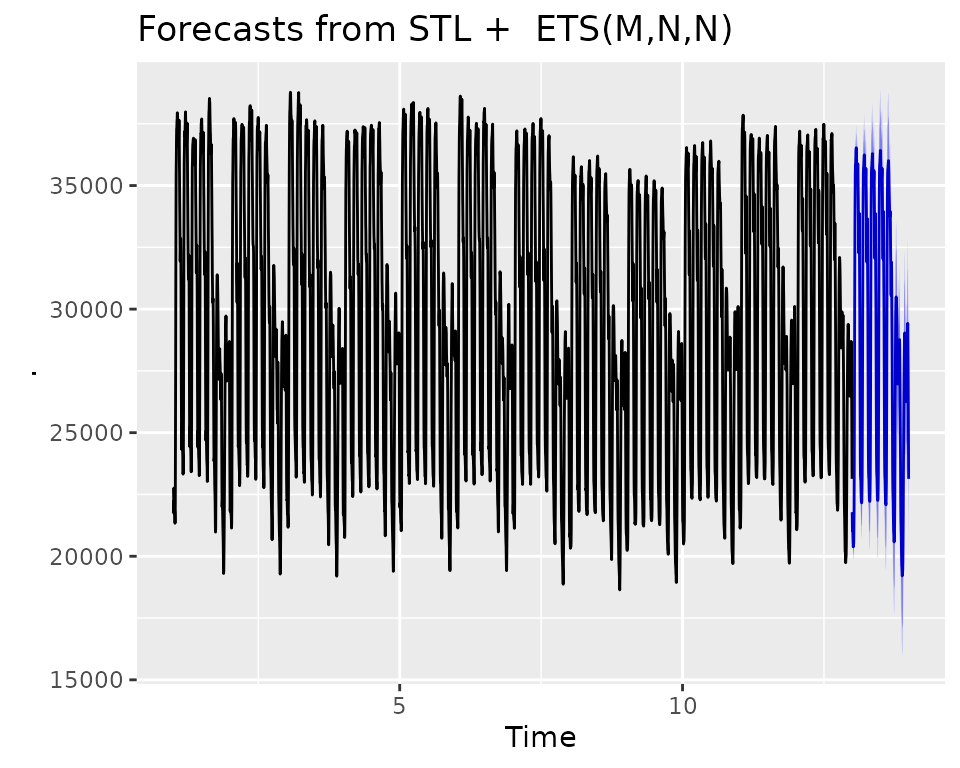 Looks like it's doing a pretty decent job of forecasting the Taylor 30-Min Data.
How to build a modeltime model
The first step we need to do is to think about the function. We can create:
msts(): Creates a multiple time series object. Key arguments: seasonal.periods.
stlm(): Creates the Multiple STL Model. Key arguments:

method: Either ets or arima (actually uses auto.arima)
We'll handle this by creating a specific engine called "stlm_ets" for the ets version.
We could add others, but let's keep it simple for now.
The General Process
We follow a very similar process to "How to build a parsnip model" with a few additional aspects:
We create a "Modeltime Bridge" function to bridge between parsnip api functions and forecast time series.
We handle feature preprocessing internally to the model bridge to avoid the issue of losing dates and date-time information.
Does it work?
The moment of truth is upon us! Let's test this new modeltime function out.
Make the Fitted STL Decomposition Model
We'll split the data into training and test sets.
Then create a model on the training set.



model_fit

 

<-

 

decomposition_reg

(


    period_seasonal_1 

=

 

24

*

2

, 
    period_seasonal_2 

=

 

24

*

2

*

7


  

)

 %>%
  set_engine

(

"stlm_ets"

)

 %>%
  fit

(

value

 

~

 

date

, data 

=

 training

(

splits

)

)





model_fit




#> parsnip model object




#> 




#> STLM Model: ETS(M,N,N)




#> ets(y = x, model = etsmodel, allow.multiplicative.trend = allow.multiplicative.trend)




#> 


#> 

# A tibble: 1 × 5




#>      aic    bic   aicc  loglik   mse


#>    

<dbl>

  

<dbl>

  

<dbl>

   

<dbl>

 

<dbl>


#> 

1

 

63

052. 

63

071. 

63

052. -

31

523.

 

9

747.
Make a Calibrated Modeltime Table
Next, let's calibrate the fitted model.



calibration_tbl

 

<-

 

model_fit

 %>%
  modeltime_table

(

)

 %>%
  modeltime_calibrate

(

new_data 

=

 testing

(

splits

)

)





calibration_tbl




#> # Modeltime Table


#> 

# A tibble: 1 × 5




#>   .model_id .model   .model_desc            .type .calibration_data 


#>       

<int>

 

<list>

   

<chr>

                  

<chr>

 

<list>

            
#> 

1

         1 

<fit[+]>

 STLM MODEL: ETS(M,N,N) Test  

<tibble [404 × 4]>
Refit on the Full Dataset
We'll refit on the full dataset.
Then forecast forward 1 week.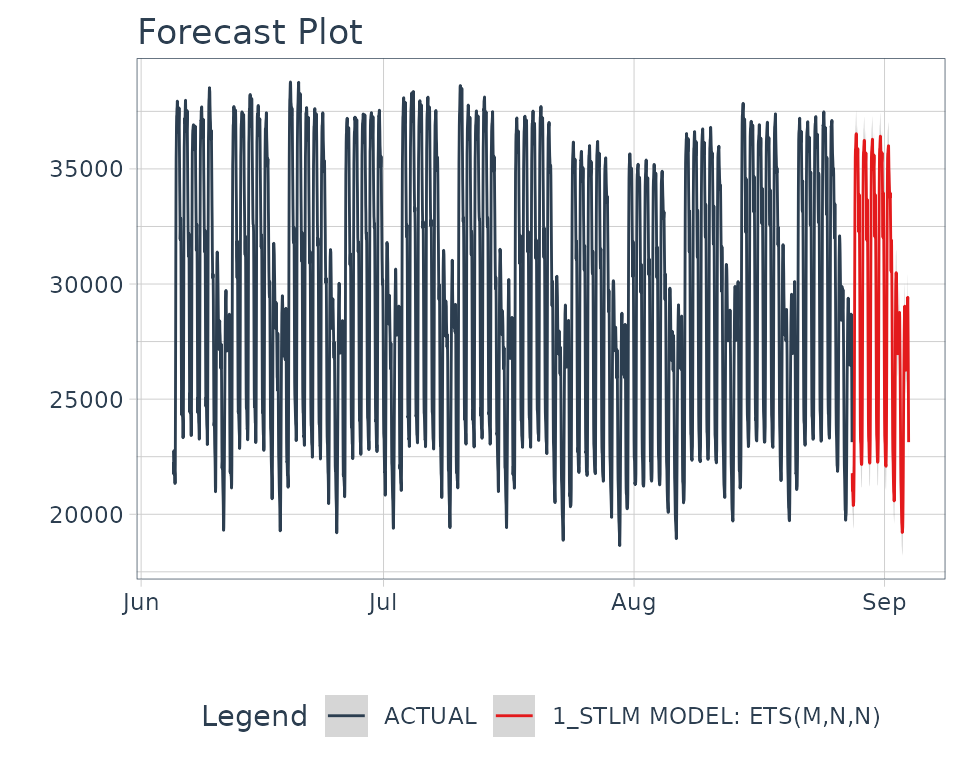 And now you've just created a new model. Just wrap it up in a package and you've extended parsnip and modeltime. Congrats!