Tidy anomaly detection
anomalize enables a tidy workflow for detecting anomalies in data. The main functions are time_decompose(), anomalize(), and time_recompose(). When combined, it's quite simple to decompose time series, detect anomalies, and create bands separating the "normal" data from the anomalous data.
Anomalize In 2 Minutes (YouTube)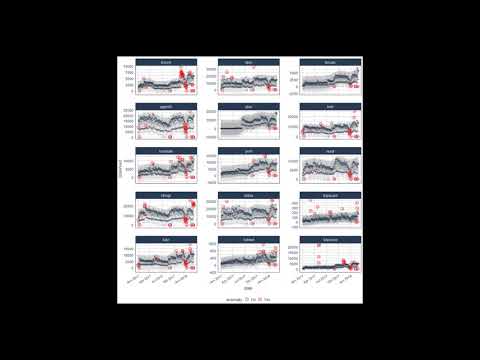 Check out our entire Software Intro Series on YouTube!
Installation
You can install the development version with devtools or the most recent CRAN version with install.packages():
How It Works
anomalize has three main functions:
time_decompose(): Separates the time series into seasonal, trend, and remainder components
anomalize(): Applies anomaly detection methods to the remainder component.
time_recompose(): Calculates limits that separate the "normal" data from the anomalies!
Getting Started
Load the tidyverse and anomalize packages.
Next, let's get some data. anomalize ships with a data set called tidyverse_cran_downloads that contains the daily CRAN download counts for 15 "tidy" packages from 2017-01-01 to 2018-03-01.
Suppose we want to determine which daily download "counts" are anomalous. It's as easy as using the three main functions (time_decompose(), anomalize(), and time_recompose()) along with a visualization function, plot_anomalies().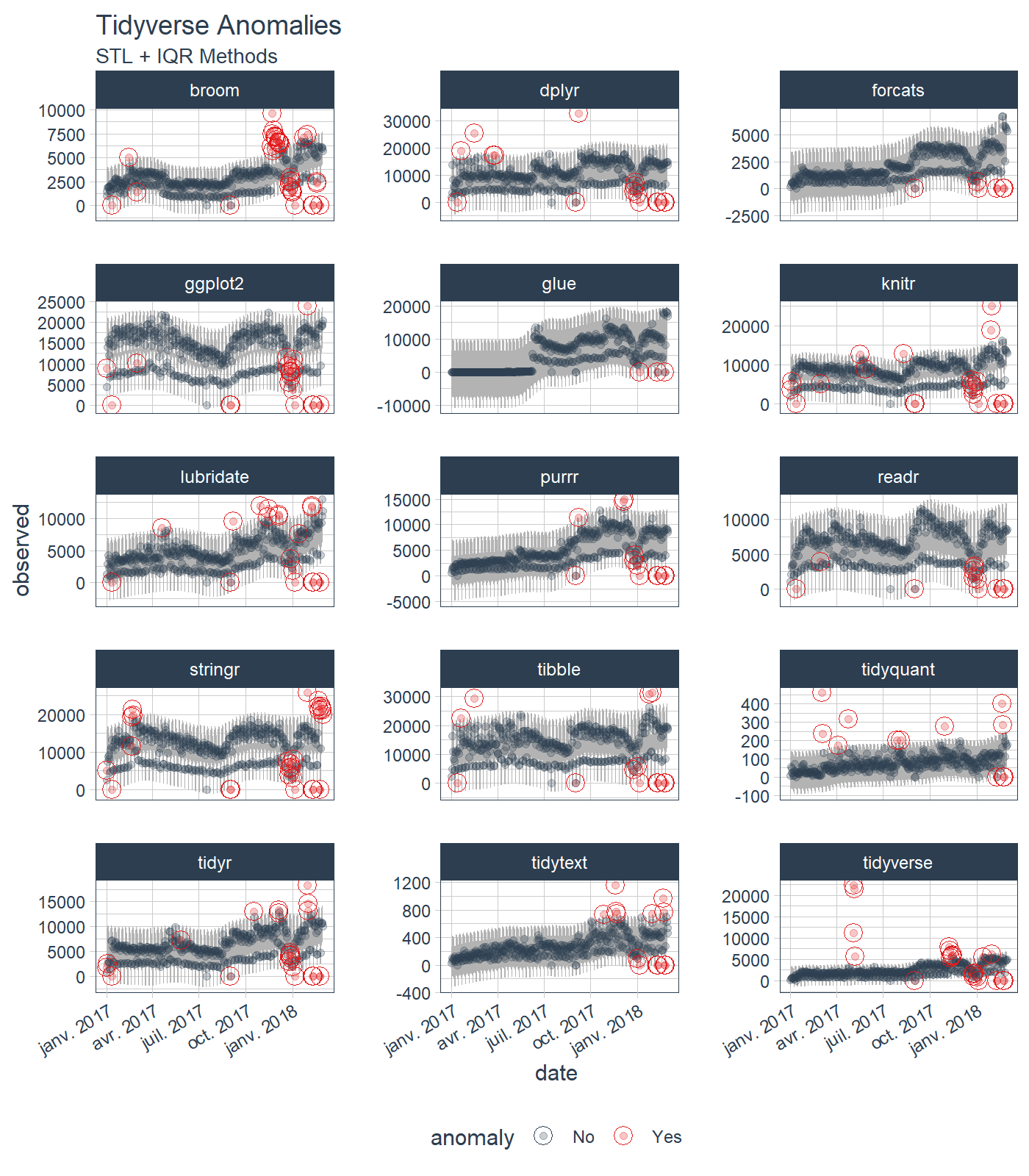 If you're familiar with Twitter's AnomalyDetection package, you can implement that method by combining time_decompose(method = "twitter") with anomalize(method = "gesd"). Additionally, we'll adjust the trend = "2 months" to adjust the median spans, which is how Twitter's decomposition method works.
Last, we can compare to STL + IQR methods, which use different decomposition and anomaly detection approaches.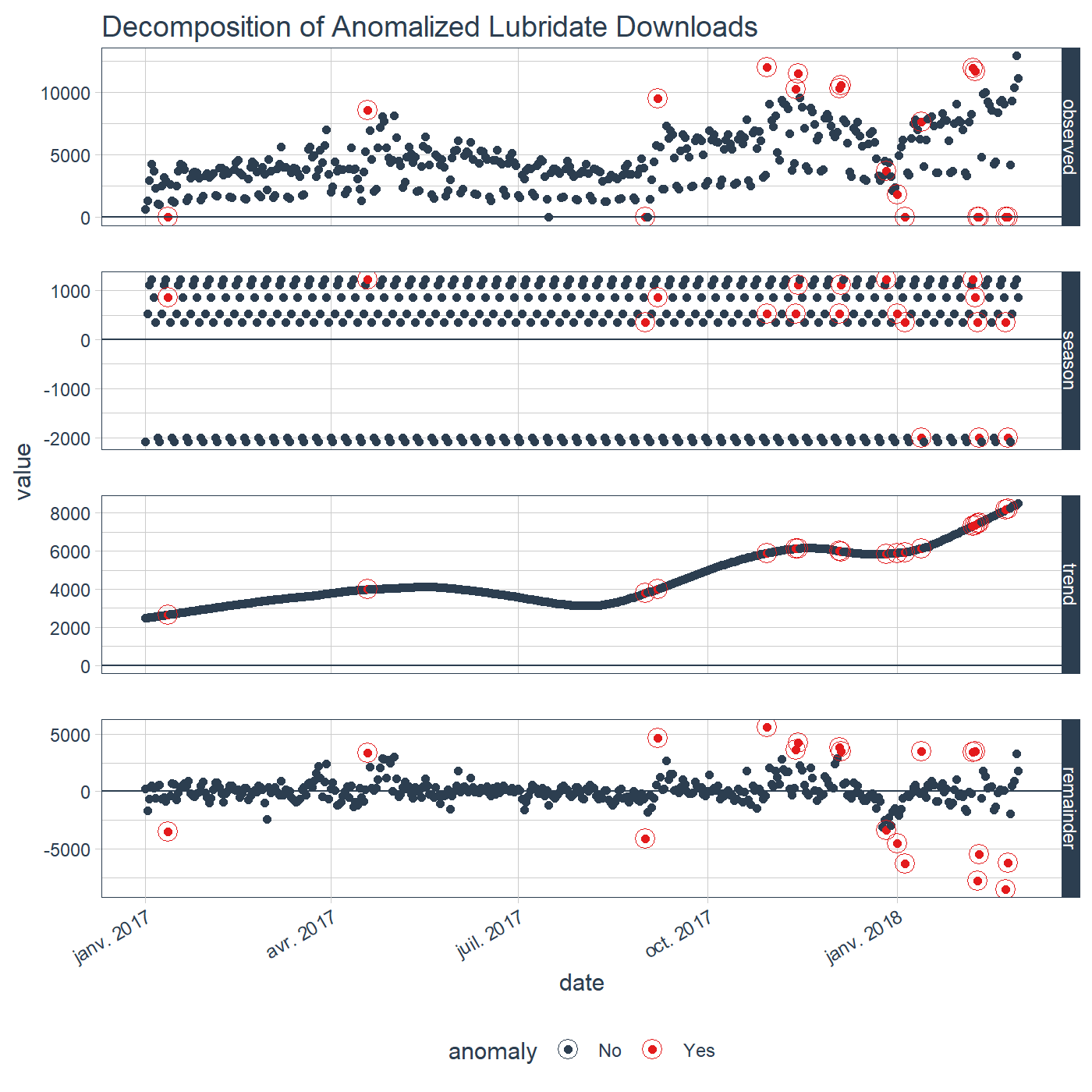 But Wait, There's More!
There are a several extra capabilities:
time_frequency() and time_trend() for generating frequency and trend spans using date and datetime information, which is more intuitive than selecting numeric values. Also, period = "auto" automatically selects frequency and trend spans based on the time scale of the data.
Anomaly Reports: Using verbose = TRUE, we can return a nice report of useful information related to the outliers.
References
Several other packages were instrumental in developing anomaly detection methods used in anomalize:
Twitter's AnomalyDetection, which implements decomposition using median spans and the Generalized Extreme Studentized Deviation (GESD) test for anomalies.
forecast::tsoutliers() function, which implements the IQR method.