Features of Tidyquant
Bringing Excel to R in tidyquant 1.0.0
NEW: Tidyquant 1.0.0 is the "R for Excel Users" release. My aim is to build functionality that helps users coming from an Excel Background (background I came from). It's important to have these users feel at home. I have a full suite of functionality to accomplish your Excel-to-R transition.

-Matt
Details on the Excel integrations are covered in the blog article, "Excel in R - Pivot Tables, VLOOKUPs, and more".
Bringing Financial Analysis to the tidyverse
tidyquant integrates the best resources for collecting and analyzing financial data, zoo, xts, quantmod, TTR, and PerformanceAnalytics, with the tidy data infrastructure of the tidyverse allowing for seamless interaction between each. You can now perform complete financial analyses in the tidyverse.
2-Minutes To Tidyquant
Our short introduction to tidyquant on YouTube.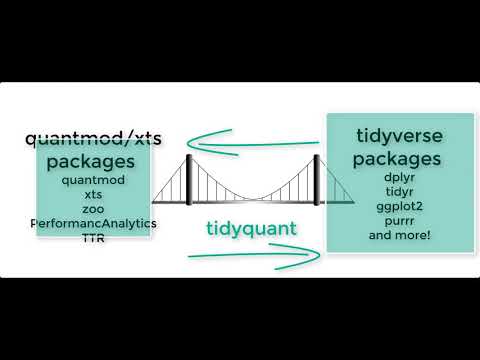 Check out our entire Software Intro Series on YouTube!
Benefits
A few core functions with a lot of power
Integrates the quantitative analysis functionality of zoo, xts, quantmod, TTR, and now PerformanceAnalytics
Designed for modeling and scaling analyses using the the tidyverse tools in R for Data Science
Implements ggplot2 functionality for beautiful and meaningful financial visualizations
User-friendly documentation to get you up to speed quickly!
One-Stop Shop for Serious Financial Analysis
With tidyquant all the benefits add up to one thing: a one-stop shop for serious financial analysis!
Installation
Development Version with Latest Features:
CRAN Approved Version:
Further Information
The tidyquant package includes several vignettes to help users get up to speed quickly:
TQ00 - Introduction to tidyquant
TQ01 - Core Functions in tidyquant
TQ02 - R Quantitative Analysis Package Integrations in tidyquant
TQ03 - Scaling and Modeling with tidyquant
TQ04 - Charting with tidyquant
TQ05 - Performance Analysis with tidyquant
See the tidyquant vignettes for further details on the package.