Iterative Forecasting with Nested Ensembles
Source:
vignettes/nested-ensembles.Rmd
nested-ensembles.Rmd
Iteratively forecast with nested modeling
Why is nested forecasting important? For starters, the ability to iteratively forecast time series with many models that are trained on many individual groups has been a huge request from students in our Time Series Course. Why? Because two methods exist that get results:
Global Modeling: Best for scalability using a Global Models and a Panel Data structure. See Forecasting with Global Models.

Iterative Forecasting: Best for accuracy using a Nested Data Structure. Takes longer than global model (more resources due to for-loop iteration), but can yield great results.
We've incorporated a new approach called "nested forecasting" to help perform Iterative Forecasting.
What is Nested Forecasting?
The core idea of nested forecasting is to convert a dataset containing many time series groups into a nested data set, then fit many models to each of the nested datasets. The result is an iterative forecasting process that generates Nested Modeltime Tables with all of the forecast attributes needed to make decisions.
What is Nested Ensembling?
Nested ensembling applies the concept of ensembling, which is generally averaging many individual models (called submodels) to produce a more stable model that sometimes improves over the best individual model.
We can apply the ensembling techniques to iterative or nested forecasting. In this tutorial, we will show you how to perform:
Average Ensembles using ensemble_nested_average(). These are the simplest models.

Weighted Ensembles using ensemble_nested_weighted(). These allow the user to provide "loadings" to distribute the weighting to the top models, which can sometimes improve over the simple average ensembles.
Let's go!
Nested Ensemble Tutorial
We'll showcase nested ensembling for iterative forecasting in this short tutorial.
Summary
Nested ensembling is a powerful technique that can improve forecasting accuracy. But, this is just a small portion of what can be done to take your forecasting to the next level… If you want to become a forecasting expert for your organization, then take the read on!
Take the High-Performance Forecasting Course
Become the forecasting expert for your organization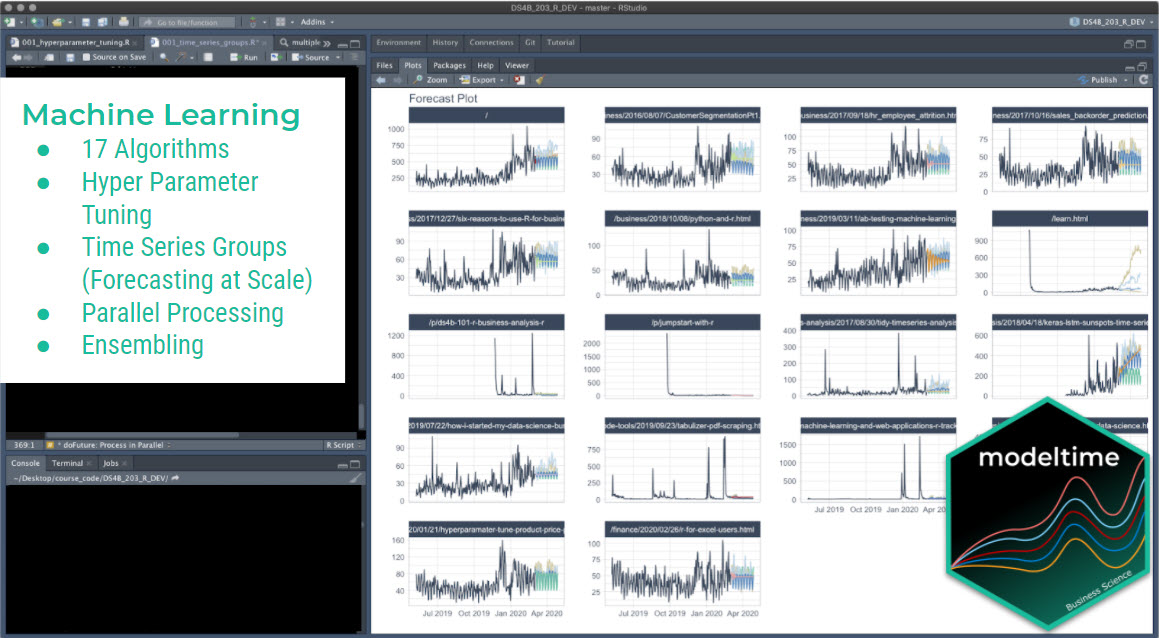 High-Performance Time Series Course
Time Series is Changing
Time series is changing. Businesses now need 10,000+ time series forecasts every day. This is what I call a High-Performance Time Series Forecasting System (HPTSF) - Accurate, Robust, and Scalable Forecasting.
High-Performance Forecasting Systems will save companies by improving accuracy and scalability. Imagine what will happen to your career if you can provide your organization a "High-Performance Time Series Forecasting System" (HPTSF System).
How to Learn High-Performance Time Series Forecasting
I teach how to build a HPTFS System in my High-Performance Time Series Forecasting Course. You will learn:
Time Series Machine Learning (cutting-edge) with Modeltime - 30+ Models (Prophet, ARIMA, XGBoost, Random Forest, & many more)
Deep Learning with GluonTS (Competition Winners)
Time Series Preprocessing, Noise Reduction, & Anomaly Detection
Feature engineering using lagged variables & external regressors
Hyperparameter Tuning
Time series cross-validation
Ensembling Multiple Machine Learning & Univariate Modeling Techniques (Competition Winner)
Scalable Forecasting - Forecast 1000+ time series in parallel
and more.
Become the Time Series Expert for your organization.